Special Events

Learn how to Turn up the Heat in your Relationship!!
Come join me for this exciting Seminar geared towards reigniting the intimacy and connection in your relationship!! Seating is very limited so please If you are interested in attending this seminar on November10th at the Jack and Jill Adult Boutique in St. Petersburg please send me an email at: [email protected]
For more information about event location and details:
https://www.jackandjilladult.c...
Blog Post from Jack and Jill Event:
http://www.thorisazviews.com/2...
At Jack & Jill's Turn up the Heat relationship seminar last night, Dr. Susan Freedman, Certified Sex Therapist and Clinical Sexologist talked about Dr. John Gottman's six magic hours of things to do each week to enhance connection with a partner. From taking a couple minutes to kiss hello and goodbye each day, to a few minutes of admiration and appreciation for each other, along with physical affection, and even having a couple hours each week for a date night, there was one thing that stuck out to you the most, and that was taking an hour each week for a State of the Union Meeting. Better than calling it a bitch fest, the message is about how to communicate effectively any issues arising, be it anything from discussing bad habits, to things like promotions at work, but when discussing any bad points, it's not as easy as they say to broach subjects in a manner which will not offend the other person, so she shared some key tips.
Take "could, should and would" out of the equation. Leave out the expectations. Discuss your feelings and traumas from the point of view of how it makes you feel, as opposed to attacking a person's character or making it seem as if you are pointing the finger, placing blame for the cause and effect.
If you feel a certain way because of a specific trauma, talk about it. That's easier said than done. Admitting that you have had a trauma takes guts; not everyone is willing to express, even with the best of intentions, but it's having the guts to try to do it that can make things clearer to the other involved.
Another interesting concept was Gary Chapman's idea of having five different love languages, as not everyone views love the same way. Some people like receiving gifts or visual tokens of love, while others might like quality time or physical touch. Acts of service, or doing things without being asked as a way of showing appreciation for your partner, and even giving compliments may be how others express love or understand someone else's gesture of love; knowing which is best for your partner helps a lot.
If one person's expression of love is physical touch, but they are with a partner that did not grow up in a touchy feely family, didn't express their love in that way, then the two might not understand each other's actions the same way when it comes to love. If instead, the other person understood love to be helping each other around the house, anticipating and fulfilling their partner's needs before they ever arise, they might not understand where the other is coming from. Understanding what best meets your partner's needs, and knowing what best meets your needs, can help make for a peaceful partnership.
Of course, sex toys can always help spice up a relationship, whether exploring mutual stimulation, vibrating rings for tongues or other body parts, remote controlled vibrating panties, or even exploring the 50 Shades of Grey style with a little bondage experiment with some restraints for the bed; kick it up a notch by exploring a few of the sex swings. There's ones that hang from the ceiling, ones that hang from a freestanding hanger, and ones that basically allows you to hang from your partner. Of course, that means that you have to find a partner able to hoist your big'un up without pulling muscles.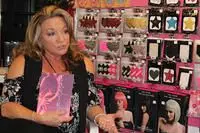 If you find yourself having sexual concerns, dysfunctions, or have had past traumas, talk to a sex therapist like Susan Ruth Freedman. She has plenty of activities and exercises to try, but she also has a caring ear and is very good at digging deep to find the root of a problem, so that it can be solved. In addition to being a board certified clinical sexologist, she also does hypnotherapy, is a trauma specialist, a mental health counselor, and does couples, as well as individual, therapy: www.anewtomorrow.net .
Blogger: Marisa Williams earned her Master's in Writing at the Johns Hopkins University. She is the author of more than 100 books and a licensed Realtor. For more by Marisa, visit www.lulu.com/spotlight/thorisaz .